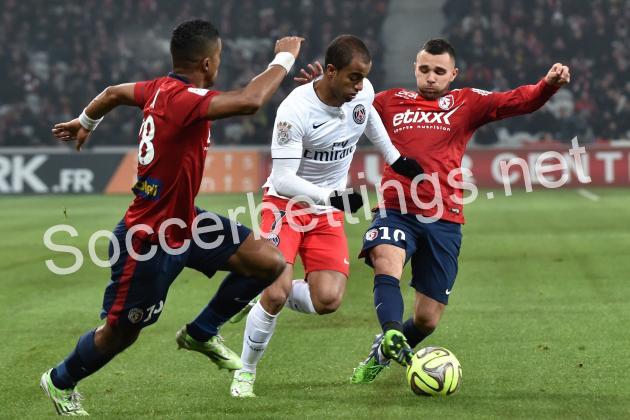 Paris Saint-Germain – Lille OSC – In the French Ligue 1 this week on the program matches the extraordinary 24th round, but certainly that is one of the most interesting was this which meet current champion PSG and always unpleasant team of Lille. However, at this time the Parisians hold second place in the table and have as much as 23 points more than the 12th of Lille, as they were in addition this season already defeated twice, and this is the first priority hosting with 1: 0, and then in eighth finals of the French League Cup at home with 3:1.
But what certainly calls for caution in the national camp is the result of their last year's primary visit to the Parc des Princes, when guests from Lille set very tight and disciplined on the field, and finally came to the big draws – 0: 0th However, during this period the Parisians had a lot of commitments in Europe, but also something A prime situation in the championship so much and did not play at full throttle, while they were this time credits indispensable to continue to maintain the connection to the leading Monaco, who now has three extra points.
And it was against them before the two rounds on the same field played only 1: 1, and that after the tying goal received in 93 minutes, while by coach Emery in the remaining eight of the last nine appearances typed victory. So last weekend routinely come to the visitors' triumph of 3: 1 of Dijon, no matter what at this time because of injuries can not count on even six players – goalkeeper Trapp, Meunier defenders, midfielders Verrattija, KRYCHOWIAK and Pastore and attackers di Maria.
Probable lineups PSG: Areola – Aurier, Silva, Marquinhos, Kurzawa – Rabiot, Motta, Matuidi – Lucas, Cavani, Draxler
For Lille this hard match against the current French champion comes at a very bad time, since last weekend completely unexpectedly at home lost with 1: 0 by posljednjeplasiranog Lorient. In fact, before that, coach Collot in the championship had a series of three draws and one win, and this is achieved away to Lyon, while during this period and in the French Cup last even two obstacles, niželigaša Excelsior and rivals Ligue 1 Nantes.
However, this latest blunder they should not have because again only three points separate themselves from the relegation zone, so that the rest of the season have to play a lot more serious if in the finish want to avoid a fight for survival. Otherwise, they are during this transfer window changed many times and is perhaps one of the reasons something worse Party in the last round, while they certainly much missing and injured goalkeeper Enyeama, midfielders Mavuba and Lopes and attacker Bautheac
Probable lineups Lille: Maignan – Corchia, Soumaoro, Basa, Beria – Bissouma, Amadou – El Ghazi, de Preville, slit – Eder
Paris Saint-Germain – Lille OSC TIP
No matter what is on Saturday domestic defeat of Lorient terminated their series of three wins and three draws, we still believe that a very strong and unpleasant team of Lille at Parc des Princes can provide decent resistance favored Parisians, so we ended up here and select the type of the few goals.
---